| | | |
| --- | --- | --- |
| Links zu besonderen Dalmatiner-Seiten, zu allen Züchtern des deutschsprachigen Raums und allen Dalmatiner-Verbänden, Clubs und Vereinen der Welt gibt es im Dalmatiner-FAQ (Ladezeit!) | | Links to outstanding Dalmatian-Sites, to all dal clubs of the world and much more can be found in the Dalmatian FAQ. Sorry that it's only available in German (maybe YOU can help to translate? Please mail if yes). |
Here you find my best links to photographic sites.
| | | |
| --- | --- | --- |
| Bitte sei doch nett und bewerte meine Photo-Galerie hier - Vielen Dank! | | Please be kind and rate my gallery below - Thanks a lot! |

Dalmatinerwebring
The Japanese Dal Ring !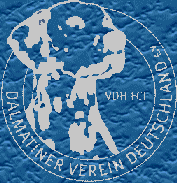 Did you know this breed? Me neither... But on Anettes page (also a swiss one) you'll find some of the cutest pictures (with funny comments) of dogs and information of this breed. A must see - although it's in German you just have to click on "Bilderbuch" to go straight to the pictures.
Enjoy these nice dogs: Joya & Boma!

Pet Bakery bietet die verschiedensten Nahrungsmittel für Haustiere an, der Clou ist, dass diese alle ohne Konservierungs-, Lock- oder Farbstoffe in liebevoller Weise hergestellt werden. Die Seite ist übrigens auch optisch sehr süss gestaltet.


Guten Appetit!
WORLD WIDE WOLF
Zitat aus der Beschreibung: "Diese Website nutzt heute schon modernste CP5 Technologie und brennt nicht in den Augen. Zusätzlich geeignet für Kinder ist sie, weil sie auf das Wort "Geschlechtsverkehr" überall gänzlich zu verzichten weiß."
Drachenstein meint: hat eigentlich nix mit Tieren zu tun, ist aber auf jeden Fall absolut tierisch!

---